Happening at Word Up Community Book Store, Washington Heights, NY. 2018
A traveling newsstand that documents, publishes, and distributes the stories of Black im/migrants and first-generation Black Americans. Through a series of story circles, participants are able to recount their diasporic experiences and anecdotes, sharing their rituals and traditions. Each story circle is documented, recorded, transcribed, and edited in collaboration with the participants.

The newsstand is activated as a happening that intervenes the public space and reclaims it with these narratives.


Collaborators: Albert Saint Jean and The Black Alliance for Just Immigration (BAJI). Newsstand design Michael Yarinsky

This project was possible thanks to the support of the Laundromat Project.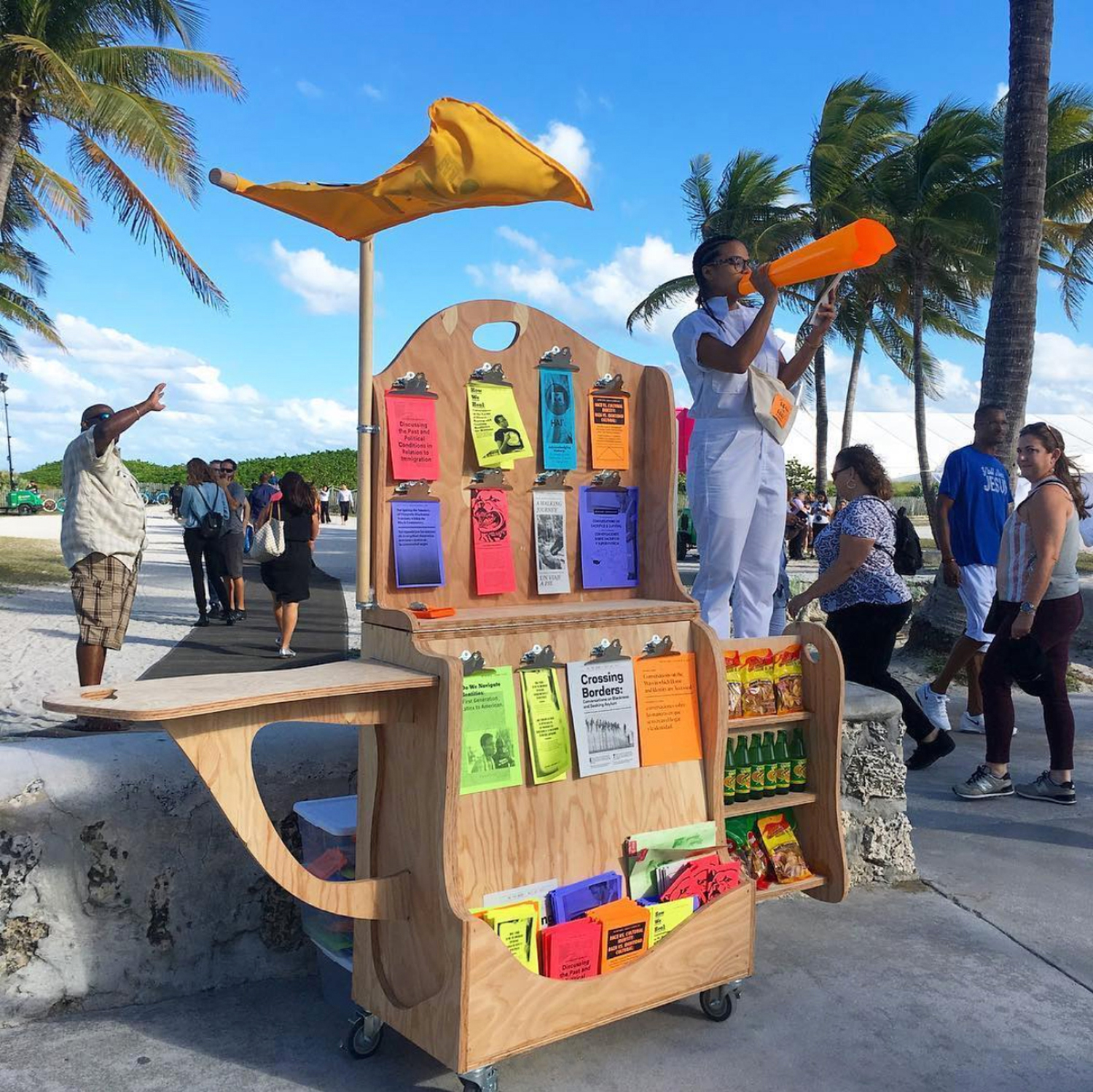 Happening at Untitled, Art Miami, Miami, FL. 2018
Story
Circles
The story circles took place in Brooklyn, Manhattan, the Bronx, and Queens. Each was attended by eight to twelve participants. We collaborated with caribBEING, Hancock Street Community Garden, Word Up Community Book Store, and congress woman Alexandria Ocasio-Cortez at the Queens Public Library Langston Hughes, to host the storytelling circles.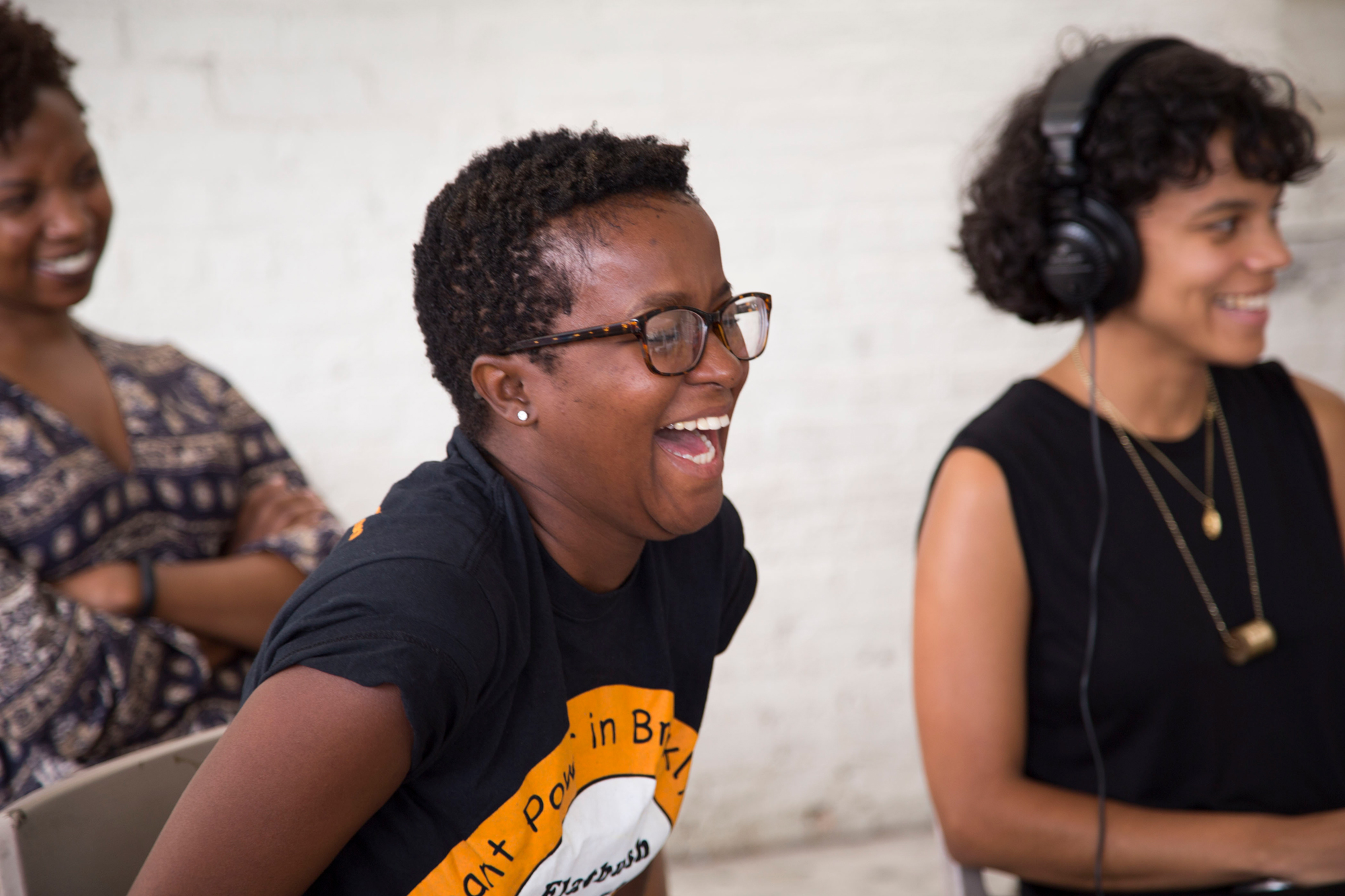 Zines
So far, 18 zines have been published and more than 500 zines have been distributed in different activations and public interventions. Half of the zines have been translated to Spanish.
Public
Happenings
The We the News newsstand traveled to : Queens Museum and Printed Matter Art Book Fair at MoMA PS1 in Queens; Bard College in Hudson River Valley, New York; the corner of Nostrand Avenue and Jefferson Avenue in Bedford-Stuyvesant, Restoration Plaza, and Jenkins Johnson Projects Gallery in Brooklyn; Press Play Fair at Pioneer Works in Brooklyn; "Black Love Fest" at Sugar Hill Children's Museum of Art and Storytelling in Harlem; Word Up Community Bookshop/Librería Comunitaria in Washington Heights; Forward Union at Red Bull Art Space in Manhattan; UNTITLED, ART and Little Haiti Cultural Center in Miami; August Wilson Center in Pittsburgh and City of Asylum in Pittsburgh.

Restoration Plaza
This activation highlighted BAJI's work for the No New Jails NYC. We asked passerbyers to share reflection on this question: how would you spend $11 billion to help your community? After the proposed closure of Rikers, $11 billion was the state budget to build new jails. We also hosted Julissa Herrera who read an excerpt of the zine which recounts her story Mapping Our Role: Finding Space in America as well as hosted a panel discussion on Archiving Histories & Blurring the Boundaries of Art with the participation of Nontsikelelo Mutiti, Albert St. Jean, Julissa Herrera and myself, Lizania Cruz. We distributed free We the News zines and played music while serving food.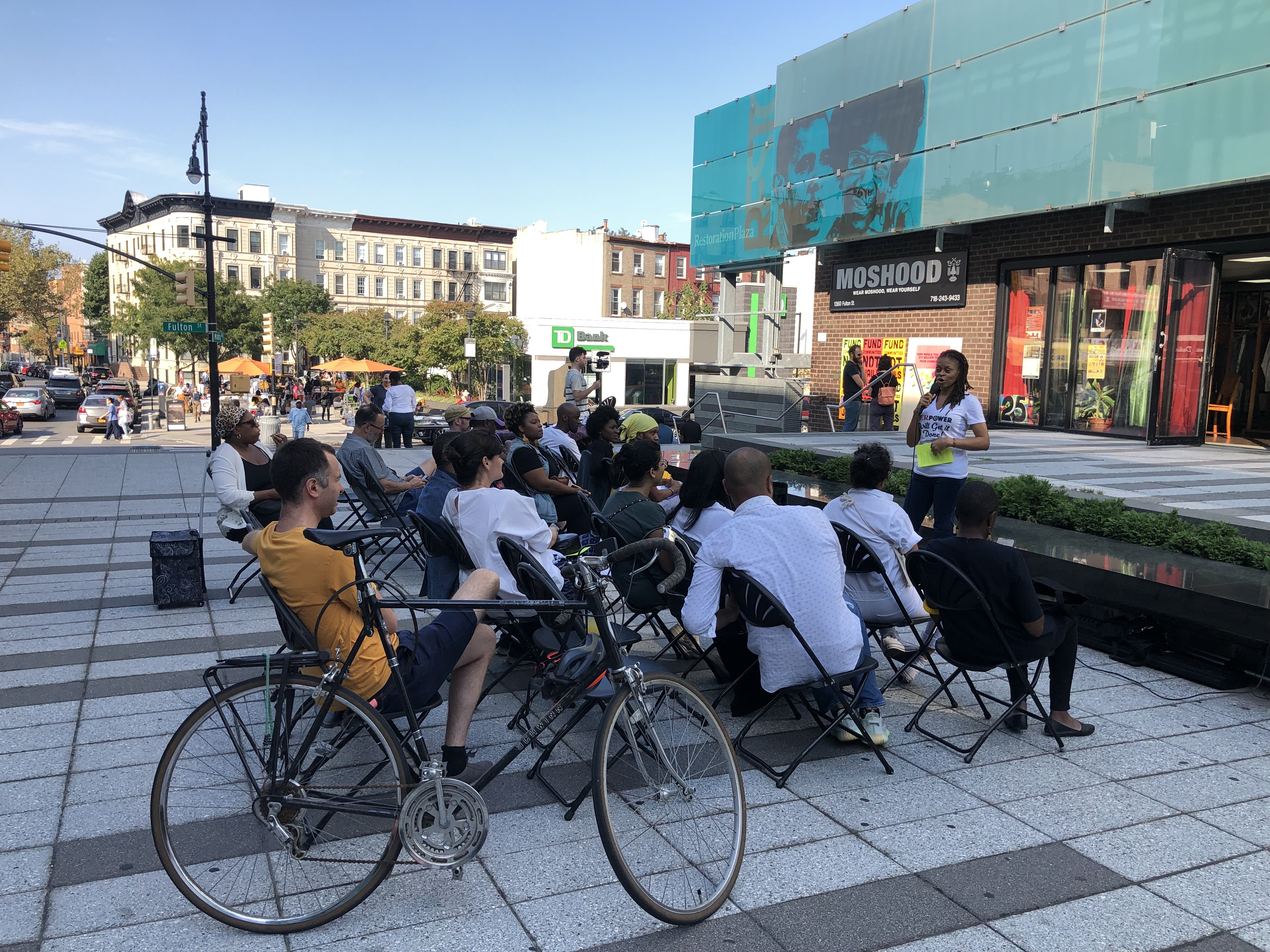 In the Gallery
Iterations of We the News have been presented in gallery spaces such as Jenkins Johnson Projects Gallery, Oolite Arts, and as part of the Laundromat Project Soapbox party. Each activation invites the audience to contribute to the installation by filling out the statement "Immigrants are [Blank], So am I," or they are invited to take zines with them.


Block Party, Jenkin Johnson Projects Gallery, 2018
The Laundromat Project Soapbox party, 2018
Parallels and Peripheries, Oolite Art, 2018

Workshops
In addition to the newstand, I created a series of workshops which invited participants to trace and share their migration routes, as well as create collages in responses to the stories shared in the zines. The workshops have taken place at: the TAMA Street Festival in Bedford-Stuyvesant, The Brooklyn Conference: Inspiring Social Change at the Brooklyn Museum in Brooklyn, and Park Armory's Looking Back | Looking Forward: Culture in a Changing America in Manhattan.
Brooklyn Museum and TAMA Festival, 2017
TAMA Festival, 2017 and Park Armory, 2018